Where We Sail
Catamaran sailing on Velika Plaza can be very exciting.
Morning flat water cruising along the 12km sandy coast, afternoon high wind blasting or a calm evening sailing into beautiful sunsets.
We have a Hobbi 16 fully rigged for offshore sailing in coastal waters.
Learn to sail with a professional RYA sailing instructor, or simply rent for an enjoyable relaxing sail. We will tailor your sailing experience to suite your needs.
---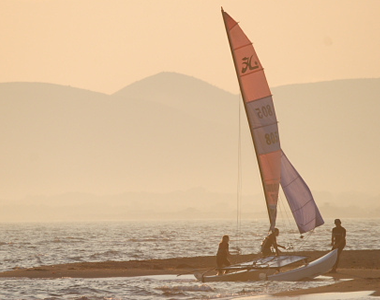 A catamaran is geometry-stabilized, that is, it derives its stability from its wide beam, rather than having a ballasted keel like a monohull.
Duration: 1 hours with instructor

minimum of 2 persons