Our watersports summer camp is located on the Velika Plaza beach, in Ulcinj, Montenegro. Stretching over several acres of sandy beach on the shore of the Adriatic Sea and the Bojana River delta, the camp is surrounded by miles of pristine nature. Its location and program are unique in this part of the world.
The camp is run by experienced professionals, licensed watersports instructors. We are confident in the quality of our programs and the abilities of our staff, and the results we achieve speak for themselves.
Among the participants in our summer camp sport programs are a US Snowboard Champion, a Snowboard Pioneer World Champion and a Kitesurfing Junior World Champion.
For years, the multiple women's world karate champion has been training and preparing at our camp. Serbia's all-time best junior skier also spends at least one month in our camp every summer.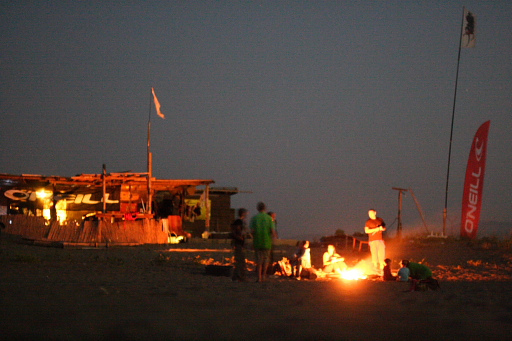 ---
All-Inclusive
The camp offers an all-inclusive flat rate of 50€ per day, with a minimum stay of 10 days. We encourage our guests to opt for the all-inclusive package because it has proven to be the fastest and most effective way to learn and progress.
All-inclusive campers can avail themselves of the full range of services and camp resources under the supervision of professional instructors. For those interested, we offer nutrition counselling based on the Nazarov method and additional activities for raising their overall fitness level.
Within our all-inclusive package we also provide lifeguard training, in real-life scenarios.
Younger all-inclusive campers participate in the Peer Education program. By assisting professional instructors, they acquire additional knowledge and gain confidence, while those that have the aptitude become professionals themselves.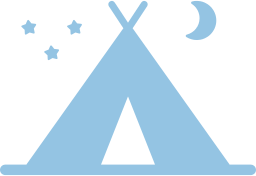 ---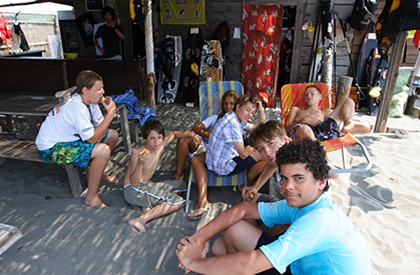 Short Stays and Day Camp
In case of shorter stays, (less than 10 days), food and accommodation is charged 20€ per day, while the sport activities of your choice are charged according to the rates listed on our website, (2012 Kitesurfing Prices, 2012 Windsurfing Prices, 2012 Sailing Prices). Another option is to arrange for your own accommodation and use camp facilities during the day.
The accommodation facilities in our camp are exclusively reserved for participants in our sport activities.